Adiga has quite the talent for writing. I loved his first novel White Tiger which I read a year ago, and his second novel was recommended to me by a friend (that's you
athiran ) I breezed through this novel in a matter of days!
The novel is set in a small town in south west India, Kittur, and the novel is more of a collection of short stories during the period between the assassination sof Indira Ghandi and her son, Rajiv Ghandi, The author charts out the stories in a manner of a map, setting each story and character in a different and distinct part of town which represents race, caste and religion. Through these stories, the reader sees the attractions through a tourist's perspective while understanding the history and what really goes on in the community through a local's view.

We see the little Tamil girl who has to beg on the street so she can collect money to buy her coolie father some 'smack' so he would love her again the way he used to, the half caste high school boy who struggles with his identity because regardless of wealth, it's caste that places you in this society, and the Muslim shop owner who can't help but let his conscience run his business and is sick of bribing the government for every little thing.

It is brilliant and entertaining, while also placing Kittur and the Indian culture on the map in a refreshing way. Adiga writes about what he knows, and what he knows well is India and the maze in which the people live.
Current Mood:

good
An exceptional novel that kept haunting me for days after completion; I was filled with rage, sympathy, and compassion and wanted to keep reading more.
The author sets the story in a place that I completely could relate to – Toronto where the multiculturalism and the undertones of class set a perfect scene in 2002 for the tales of the characters to unfold.
The backstory which makes this novel different is one of finding family and the desire to belong with a specific incident of a Vietnamese family which all immigrants can sympathize with. This novel represents all walks of Toronto life including various cultures, along with the emerging suburb culture and the new generation of Canadians who are tip toeing between their roots and their new identity.
All these themes are ones I can definitely identify with so the entire time I was left gasping for air; it was like I could have written this story myself. The author has used different narratives and has created in depth characters that are very real. I was seriously addicted!
This is one that has been added to my favourites list. I love that all the locations included are places I can envision because the author uses real streets and areas in downtown Toronto. This is also a great read for anyone wanting to know the culture of Toronto itself which is made up for hopes and dreams of so many people from different places around the globe.
Current Mood:

nostalgic
desiderata - by max ehrmann
Go placidly amid the noise and haste, and remember what peace there may be in silence.
As far as possible, without surrender, be on good terms with all persons. Speak your truth quietly and clearly; and listen to others, even to the dull and the ignorant, they too have their story. Avoid loud and aggressive persons, they are vexations to the spirit.
If you compare yourself with others, you may become vain and bitter; for always there will be greater and lesser persons than yourself. Enjoy your achievements as well as your plans. Keep interested in your own career, however humble; it is a real possession in the changing fortunes of time.
Exercise caution in your business affairs, for the world is full of trickery. But let this not blind you to what virtue there is; many persons strive for high ideals, and everywhere life is full of heroism. Be yourself. Especially, do not feign affection. Neither be cynical about love, for in the face of all aridity and disenchantment it is perennial as the grass.
Take kindly to the counsel of the years, gracefully surrendering the things of youth. Nurture strength of spirit to shield you in sudden misfortune. But do not distress yourself with imaginings. Many fears are born of fatigue and loneliness.
Beyond a wholesome discipline, be gentle with yourself. You are a child of the universe, no less than the trees and the stars; you have a right to be here. And whether or not it is clear to you, no doubt the universe is unfolding as it should.
Therefore be at peace with God, whatever you conceive Him to be, and whatever your labors and aspirations, in the noisy confusion of life, keep peace in your soul.
With all its sham, drudgery and broken dreams, it is still a beautiful world.
Be cheerful. Strive to be happy.
Max Ehrmann c.1920
Current Mood:

calm
A must read for educators and for those looking for inspiration to change the world.
Greg Mortenson has become somewhat of a personal hero for me after reading this true account of his mission to build schools from scratch in Afghanistan and Pakistan.
The greatness of this narrative comes from the fact that nothing is left out - the author makes sure to include all the bad as well in its full glory. Knowing the Asian mentality I was easily able to relate to the people they were trying to help who were in an innocent way, trying to take advantage of this man's kindness. I was also able to clearly feel his frustrations from the language and cultural barriers, even with all the efforts he put into respecting and learning about them.
The drive that Mortenson has is like no other. I feel warm and fuzzy knowing that a man with a heart of gold exists in this tainted world of ours. At some parts the narrative tends to trail, with lots of political background and scenic descriptions which made me wanna skip patches. It's a sort of a biography as well of Mortenson up to the point in which he accomplishes his goal of building these schools.
He gives me hope and made me feel stronger proving that if you really want to accomplish something and help the world, you really can!
Current Mood:

hopeful
lifestyle.msn.com/relationships/article.aspx
My fave is the last one -
Loneliness hurts less.
Feeling lonely when you're in a relationship is much worse than feeling lonely when you're single. And yes, married people do feel lonely at times (e.g. when he's taking you for granted or going into his man cave).
Current Mood:

chipper
Quentin Tarantino is by far my favourite director. Anything he has made or written instantly becomes my favourite. I really think his work defines our generation: the gore, the violence, the humour and all the quirky characters used to present it.
Till now Kill Bill has been my fave flick by him but after watching Inglorious Basterds last night, KB has been pushed down to number 2!
Each character in IB peforms like the part was written for them. Brad Pitt deserves an award! He was scary, ruthless and hilarious. Christoph Waltz DID win an award for his performance at the Cannes film fest this year and its clear why he did. His on screen presence brings on goosebumps! The 2 female leads were ridicoulsy beautiful (Melanie Laurent and Diane Kruger) and performed even better! In true Tarentino style the twists and turns kept me screaming, my heart pounding and my hand occassionaly covering my face.
The bonus was that BJ Novak (Ryan from The Office) was also in this movie and I didn't know it.
I knew this was a war movie set in WWII so I actually wasn't hoping for too much, but even though half the movie was in French and German (with no English subtitles because I watched it in Korea) I still managed to follow the story and enjoyed every single bit of it. I was sitting in the theater cheering as the movie ended.. brilliant finish.

Stellar cast, witty story, perfectly arranged background score and performances that can never be forgotton. The best movie of 2009! Hands down!!
Current Mood:

pleased

This was the only movie I was able to get tickets for which I actually wanted to see. The intrigue was because this was a Bangla movie (made in Bangledesh) by a very prominent director. I also had the pleasure of meeting the director at the Q&A session after the screening at which he explained that this film is currently banned by the sensory board in Bangledesh and this was its world premiere.

Although this movie was lengthy it was definetly worth watching. The opening scene is wonderful and within the first 5 minutes I just knew this was gonna be an excellent watch! The background score adds to this; it is one of the best melodies I have heard in a long time and the director explained that it was based on the Hindu mantras which is why it was repeated throughout the entire movie.

The movie follows Rupa, a Bangla girl living Dhaka who is seen as homeless in the opening scene. In the first few minutes the audience is aware of the male-dominated community she lives in. The movie goes on to demonstrate how tough it really is for a female in this chauvanistic society where women are seen merely as sex objects, no matter what the age is of the men. A simple task of renting a home alone is extremely difficult when you are a female living alone. Comparing this to the western society is a joke! Rupa is a woman of the new world; she has chosen to not get married but rathar have a common-law relationship with her partner. We only hear about this story because her partner is facing a life sentence in jail thoroughout most of the movie. This is what causes her to be alone and also demands her to be independent. She encounters her childhood friend who is an up and coming singer in Dhaka and he is more than willing to help her out financially. They pretend to be a couple simply to rent a flat and this 'fake' relationship stirs emotions within them which both characters are unsure how to deal with. The director throws in characters to represent Rupa's subconcious: a 13 year old Rupa and a 6 year old Rupa. At first it is a bit confusing to understand but the director tries to use this a tool to allow the audience to further understand Rupa's character and her guilt towards this situation.

As most indie movies are, the ending of this movie is also open-ended. Rupa's husband is released and after her confession about not having feelings towards him anymore, the three (including her childhood friend) go on a short trip where they are seen enjoying thier time as friends. The director explained that his overall message of this movie was meant to be that none of us belonged to anybody. This message really hit home with me because I have believed this for quite a while now; just when we think we know this is it, it never really is. We can only really belong to ourselves.

A beautiful, beautiful movie especially for the feminist in you.


Current Mood:

pleased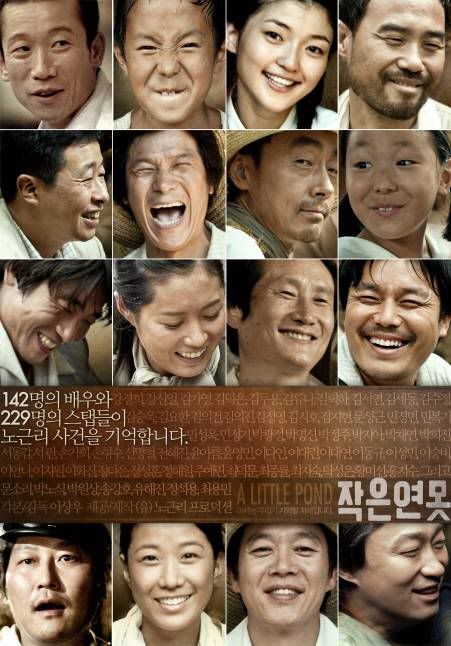 This is was the first Korean flick I have seen in theaters since I've been living here and it was phenomenal! The beginning did drag on for longer than I liked but you understand why once the the climax takes place which left me in tears for the rest of the movie.
A Little Pond refers to the villagers of No-gun-ri who are trapped in the countryside, disregarded during the Korean war. It takes place in 1950 and this movie chronicles the massacre that took place in this village which had been denied by both the US and Korean government until 2005. There is no focus on one main character which brings the audience into the real vibe of village life in 1950's Korea. The people are hopeful and uninterrupted by the war that is taking place around them but it is this naivety which allows the incidences to occur as they did. Women, children, teenagers, adjumas (old women), adjashis (old men) all have equal roles as villagers and create a humourous and enjoyable environment in a serene, mountainous setting. Once you are drawn into thier daily lives the atrocities occur leaving the audience to witness air raids and shooting rampages that are clearly unnecessary and end up really shaking your emotions. Of course, like all war movies this too is one-sided; it's the Korean side of the situation. BUT seeing this film brought me back to my own childhood and escaping the air raids of Jaffna in 1983. Of course I don't remember it but in the agony of the mothers and families in this film I could easily imagine what my family must have felt, especially with a toddler in tow. Perhaps that is what made me more drawn to the characters and I was able to empathaize on a more personal level. It really boggles my mind that a country so torn up merely 50 years ago has developed as it did, leaving me with a newfound respect for Koreans overall.
This film features many well-known faces from the Korean entertainment industry and is directed by a well-known director as well. Of course I was oblivious to all this going in to watch this, but I gained much knowledge of this event and the film during the Q&A session with the cast after the screening. This film also had it's world premiere at PIFF this year so I'm intersted to see the reactions of the general Korean audience because it is definetly more on the artsy side of things.


Current Mood:

numb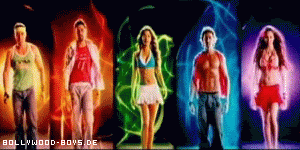 Getting tickets for PIFF was far more difficult than I had anticipated. I only got tickets to ONE of the movies I really wanted to see, so I had to cave and basically watch what was available. Of course tix to DHOOM 2 were plenty and available so I took my Korean friend along in order to introduce her to Bollywood. She was definetly grateful and enjoyed oozing over Hirthik Roshan.

Of all Bollywood movies I'm still surprised they chose this one as a selection. But I feel guitly admitting that I thoroughly enjoyed watching this, partly due to the irony of watching a Hindi flick in Korea surrounded by Koreans. I absolutly LOVED each and every one of the song segments - over the top and glossy plus Hirthik and Aish, it doesn't get any better than that!!

As over the top this story is it has a couple of clever parts. It's a cat and mouse chase with romance and exotic destinations thrown in. I found it refreshing that they were in Rio rathar than the typical London or New York locations. But Rio was probably of choice also to give reason to Bipasha showing off her bikini bod. I don't know how I grew up watching 2.5 hour movies all my life. They seem super long after my indulgence in English movies for the past few years. The drama can be redundant and Uday's comedic bit was apparently only funny to me, perhaps it was a cultural thing?
In the end Hirthik and Aish's romance had me feeling light hearted and I walked out humming to the tunes totally ready to bust a move. I think seeing Hirthink dance with his open shirts in the heat of Rio alone is worth watching this on the big screen. But I'm sure the boys just as equally enjoyed Bipasha and Aish in the skimpy outfits.

Current Mood:

amused