Friends only!
....comment to be added
This is the longest novel I've ever read.. 700 and something pages, but oh SO worth it!
It took me 10 months to devour, but I enjoyed reading it at a slow pace because it takes an emotional toll on the reader.
Set in the Emergency era (1970's) of Bombay, India this novel takes you into the depths of four lives who become intertwined due to financial circumstances. Mistry, being a Zorastrian himself, brings in a lot of the Zorastrian cultures in one of his main characters, Dina. He has also created 3 memorable male lead characters, all with unique personalities whom the reader tends to form a bond with.
Each character has a drawn out history, which adds to the understanding of the plot, creating an unforgettable journey.

I often had to put this novel down, sit and reflect on the many events. The backdrop is based on a factual era where many Indians were abused so as I read this story it seemed more real than anything. What these characters endure are factual. Their livelihoods, their relationships, their emotions and the lack of understanding of what surrounded them all brought me vivid memories of the events most minorities have endured in their corrupted homelands.
I immensely enjoyed reading this novel, although reading it again is out of the question. It really is just too long, but again well worth the investment the first time around.
Current Mood:

pleased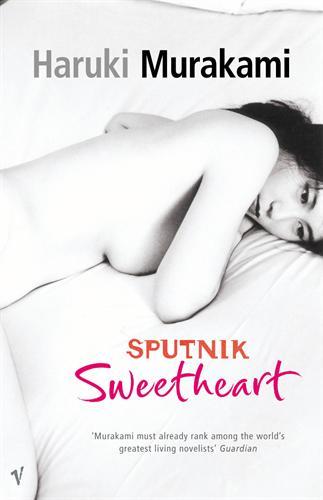 This was my first Murakami novel and I am in love!
His philosophical take on simple things is intriguing. I have never been a fan of translations as I feel things are always lost in it, but this novel was so wonderfully written/translated.
The plot is simple - boy likes girl, girl likes older, married woman in an unhappy marriage.
The themes center mainly on friendship and human connections, as well as a deep emphasis on lonliness.
Murakami stirs in Japanese culture on top of everything else into his novel so it's also a cultural delight. The story present the Japanese idea of being an expat, an opposing view to what I have experienced so to understand the world from the other side is also interesting.

Again, his story is simple. But it's the writing, the overflow of thoughts, the philosophical wanderings that make this book a delight to read.
I think I may have found my new favourite author.
Current Mood:

impressed
This was my favourite read of 2010. Another random pic which I had heard about immensely over the past recent years but had overlooked it since the story of 'Kite Runner' didn't appeal to me. It's the backpacker book holes in Asian tourist joints that really get me picking up the classic gems, and this novel is a must read!
It's often said to be the female version of the 'Kite Runner' but after viewing the movie (not reading the book) I have to disagree.
It tells the story of two women and how their lives become intertwined. It's set in the unknown backdrop of Soviet Afghanistan and Khaled Hosseini does an incredible job weaving facts into his fiction, which of course does reflect stories of these people.
His writing is exquisite and enjoyable to read. He has a way of making the reader really feel his characters, and throws in a dash of Iranian literature to once again, tie it all with the cultural perspectives.

Although the novel centers around two women, Laila and Mariam, it's the secondary characters which bring the main characters to life so they are just as important. This novel makes the reader understand a woman's place in this world, especially among the opposing views of the traditional vs. cultural society. I was left aching with misery for the women, and grunting with anger at men.
Of course this might sound cliched, but through facts the author presents the situations for what they really are - this is the existence of these people.

In midst of it all lies an innocent and pure love story that makes your heart grieve.
I can't get enough of this novel, what a wonderful read!

I'm eager to see if the movie fares well to the novel.
Current Mood:

peaceful
This is a fairly new movie that I can't even find a poster for! It's the first Sinhalese Sri Lanka film I have ever seen and it was definitely an interesting experience.
The scenes of Colombo brought me back to this summer and it felt comforting, but other than that, this movie can not be compared to anything even remotely Bollywood!
Karma is the definition of art house in Asia! Directed by Prassana Jayakody who has won awards for his first movie at the Cairo intl film fest in 2007, this story involves only 3 characters and there is more breathing heard than dialogues throughout the entire film. During the director talk he explained that this is due to the emphasis he wanted to but on the sound, and to feel the characters emotions through what we heard rathar than what we saw.
It was a difficult movie to grasp, mainly due to its extremely slow pace and shifting of time. Jagath Manuwarana plays Piyal, a lonely man who lives in a rattered downstairs apartment who is feeling extreme guilt for the death of his mother. Through his strange relationship with his neighbour (where he hears every little thing that goes on upstairs), he is able to find what he has been missing and work past his guilt. Meanwhile, his neighbour Amanda, is going through her own hardships. At first it seems that she has a miscarriage with a man who barely cares for her, but later on it turns to be breast cancer. Through taking care of Amanda, Piyal learns to move past his guilt and find a love that fills his void.
The director explained that water also is a main theme in this film; he wanted to connect the feeling of being in the womb (the attachment to a mother) which is where we are the most comfortable as what we lack, and are searching for throughout our life. We know something is missing, and we are on a endless quest to find it in someone's love.
I enjoyed hearing the director's ideas as he created this film, but to see it on screen was quite a drag. There are scenes where very little happens for numerous minutes. It's almost like a silent film as well. Perhaps this was needed to create and explain this inner feeling, but patience is required. Emotions are captured adequately but the ending scene is wonderfully done, creating the perfect closure to such a open-ended topic.
Current Mood:

content
A Spanish documentary based on a the artist Miguel Gallardo's relationship with his autistic 14 year old daughter, Maria. The audience gets to experience a few days in the life of these two, as they spend a week in a hotel on the Grand Canary Island. Through interviews with May, Maria's mother and the narration of Miguel, the audience is able to enter their world of being Maria's parents and to experience what really autism is.
For those who are unaware of this condition, this documentary is very eye-opening. Maria is a wonderful soul who is interesting and has annoying habits like yelling when she dislikes something (just like any person would want to do) but we are able to understand why she does those things. Her world is different to the way a normal person views it, and this documentary tries to capture it the way her father has tried.
As a cartoonist Miguel uses his drawings to communicate with his daughter and it's through these drawings he is able to humourously introduce us gently into this other realm. Although she lacks the simple skills of dressing herself, setting the table or just understanding directions, Maria is able to never forget anyone she meets. She has the skill of remembering everyone's names she has ever met and creates this to comfort herself. It's fascinating to enter her life and be able to see how parents of autistic children handle this way of life that is thrown at them.
This documentary was touching and very sensitive. But it was done well and made me smile.
Current Mood:

good
I had to see a Bollywood flick, and this was one of the 2 screening this year (the other being Ravaan which I had already seen this summer). There must be some liking to Hirthik Roshan in Korea since last year they screened Dhoom 2, another blockbuster and definetly not the best representation of Bollywood. This year it was Kites, another production catered at the NRI's (non-resident Indians), taking away the essence of what Bollywood should be about.
The female lead of this movie was a Mexican, Barbara Mori. Granted she fit the role of a Mexican alien in America, it was bizarre to see a typical Indian love story unfold between an Indian and a Mexican, especially with the language barrier.
As the plot unfolds the audience is taken on a chase throughout the Nevada desert which makes for great visual entertainment. However the story is flawed - it is impossible to understand how 2 people who can not communicate can fall in love in a short time, to the point of throwing everything they worked for away. It's a typical 'get rich quick scheme' that unites and backfires on them, describing the real nature of the American dream for most immigrants.
The backdrop of Nevada and Mexico is refreshing, but I did miss the lack of Hirthik's dance moves in this movie. Hirthik looks stunning as always, and plays his part well. Barbara is a well-known Mexican telenovella actress and seems really comfortable on screen. She is gorgeous and fits her role. Overall it is some-what entertaining, but more on the Hollywood scale than Bollywood. There were a few times throughout the movie I contemplated leaving, seeing that the ending was predictable.
Current Mood:

blah
I finally got to watch a PIFF film at the outdoor theater this year. It felt like being at a drive-in. At times I'd get chilly, and wonder why is the A/C on.. then look up and see the stars and be reminded where I was. I wish I could watch movies at an outdoor theater ALL the time!!
The 1st flick I saw for PIFF this year was a Filipino comedy.
Starring Angelica Panganiban, John Lupas and Eugene Domingo. Directed by Chris Martinez.
It is the adult version of 'Freaky Friday' where 5 souls are swapped during a solar eclipse, the day before a beach wedding. The setting on the beach in the Philippines is beautiful itself. It was also interesting to see the different cultures of the country represented through the characters (rich, poor, homosexual, educated). The diverse personalities and various ages of the 5 main characters makes the story entertaining as well. This setting causes a lot of tense confusion and wonderful moments.
The acting in this movie is superb! Tagalog is a mix of English and Spanish and it's easy to pick up (there were subtitles though). Angelica is beautiful and her beauty and acting shine on the big screen, she portrays the naive and sweet bride perfectly!
Although the story is simple and basically a re-creation, using these unique characters is what gives it it's edge. There were parts I found myself laughing out loud, and that's when you know that it's a real comedy!
Current Mood:

amused
After reading The Witch of Portebello I was quite turned off by Paulo Coelho. His novels are usually philosophically and soul seeking, stories which you need to interpret to make it your own.
This novel however was more close to home, about the routine of life and understanding the need to live life and find the meaning towards wanting to be happy. Cliche? Well, it isn't without touching on all these cliches that this man has sold millions of his books.
Veronika is a 24 year old girl who attempts suicide since she wants to die happy, in the midst of her youth so she can die beautiful and fulfilled. But she wakes up in a mental hospital surrounded by lunatics who help her understand life and herself in a new way. The enjoyable part of this story was the idea of insanity; those who go against the norm are always crazy so we act a certain way to keep order. It's the age old story of laws restricting man from being himself because anarchy can never be peaceful.
Coelho's too dense for me, almost like listening to a lecture rathar than reading a novel. This could be highly due to the translation of his books but this will be the last of his works that I will be spending any of my time on.
There is also a film based on this book starring Sarah Michelle Gellar that was released last year. I'm intrigued to watch it now and hope it holds the same essence as the novel.
Current Mood:

dorky
I love the selection of Asian authors in South Asian bookstores! This was the second novel I picked up in Sri Lanka, written by a Malaysian Tamil author and published this year. It is set in Malaysia and the story is narrated throughout the 20th century, from when Sri Lanka was still known as Ceylon and Malaya was a colony of the British to when the riots of Indian freedom took place in KL in the early 2000's.
The protagonist of this story is Parvathi, a Tamil girl from a small village in Sri Lanka who is raised as a typical village girl, with no freedom or any awareness of the outside world. She is sent to Malaya as an arranged bride to marry a wealthy businessman, as his second wife. As the story unfolds Parvathi blooms into a sophisticated woman with the help of many people in her lives, including her husband who at first rejected her but later is mesmerized by her dark beauty and naive, religious views of the world.
Parvathi only yearns for true love and to find her purpose in this world. She eventually does stumble upon both, first with the arrival of WWII and her order to become a comfort woman to a Japanese general with whom she encounters real love for the first time, and secondly in her death bed.

The novel is lengthy and basically follows Parvathi from birth to death, introducing very colorful characters along the way. It read like a biography and has numerous philosophical and religious elements woven in. There wasn't anything spectacular about this read; it simply explained a married woman's life on a rich estate, followed by the destruction of the country and her understanding of family trials that come along the way. Somehow the simplicity of this novel is what drew me in, and there were many concepts that I found myself mesmerized by.

My favourite part was near the end, where Bala, Parvathi's son-in-law tries to explain why it's important to be part of the Indian rights struggle in KL, why Indians or dark skinned people need to stand up for themselves -
'Dark skin can be the most beautiful thing. For it tells of a heart that has suffered prejudice and in the process become soft and compassionate. It tells of a person who has yet to call her own skin beautiful, someone who has to be taught when presented with a choice to willingly choose brown, because it is no less than any other color.'
'A mother thinks she is improving her child when she tells him, "look at the Chinese, look how successful they are. Be like them." She doesn't' realise what her child hears is: "you are not that. Pretend to be that because you are not good enough as you are."'
Perhaps it's the parallel world I live in, or the agonizing question of 'why are you so dark?' that I have encountered all my life, but these bits really hit close to home and made me smile.
Current Mood:

productive